Why New Faith Network?
A Christian network
All content is screened by our editors before it becomes available. Enjoy a safe viewing experience Perfect for children
A wide selection of content for kids, meant to convey the Christian message in an uplifting way Cancel anytime
We don't like commitments. You can easily cancel your subscription at any moment
Watch whenever you want, on any device you want
New Faith Network is available on all your favourite devices: you can enjoy our content on your mobile phone, tablet, computer, or on your television's big screen, using the Smart TV-app. Stream quality films and series anytime and anywhere.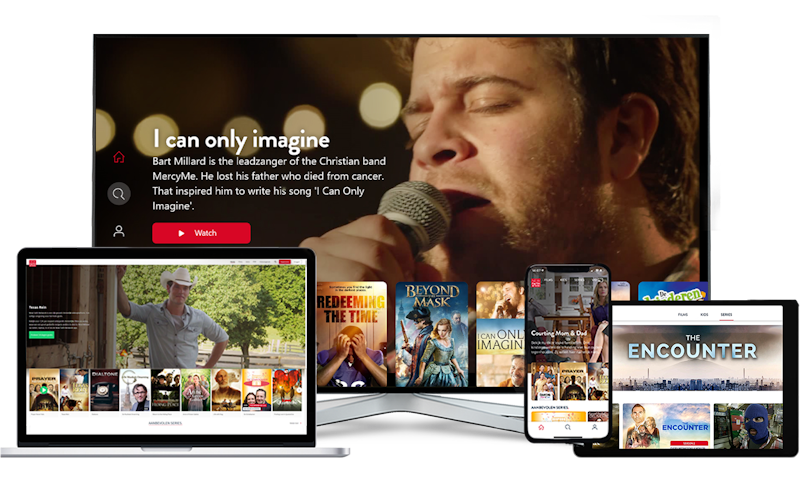 Safe for both young and old
Our editors carefully screen all films and series before they become available for streaming. This way, we can be sure that our service provides a safe viewing environment for the entire family. Your kids (or grandkids) can now watch well known films like 'The Story of Jesus for Children', or they can learn more about the heroes of the Bible in an entertaining way, by watching series like 'Torchlighters'.
Stories with a message
On New Faith Network you won't only find films and series about the Bible, Jesus and faith. You'll also find other compelling stories about love, doubt, hope and loyalty. There's a film for every occasion. Take some time to yourself, watch together, or enjoy with the entire family.
How does it work? Hassle-free sign up
Create an account in 3 easy steps and start watching today Get a free 14-day trial
Enjoy our films and series completely free of charge for the first 14 days, on multiple devices Cancel any time
No fee if you cancel while being on your trial period. Your subscription is monthly terminable afterwards
Start watching today
Unlimited access to all our Christian films and series

The largest selection of safe Christian content, both for young and old
Carefully filtered films and series, safe viewing environment

Ad-free policy, with no cancellation fee
Frequently Asked Questions